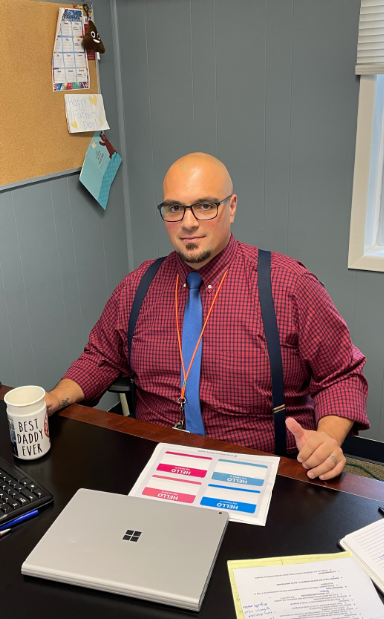 Phone: 973-584-5236
Email:
Degrees and Certifications:
Degrees: B.S. Special Education, Elementary Education - Seton Hall University M.A. Educational Leadership - Centenary University M.E. Curriculum and Instruction: Technology - Grand Canyon University Certifications: Teacher of the Handicapped Elementary Teacher (K-8) Teacher of Preschool through Grade 3 Supervisor School Administrator
Mr.

Joel DeBarros

Work Experience: My career began teaching at the Verona Public Schools in the elementary school setting and, mostly, in a Preschool Disabilities Program. After 5 years I decided to explore new opportunities and was hired to teach Special Education courses at Roxbury High School. In my experiences here in Roxbury, I was blessed with the opportunity to teach Math and Science in various settings, both self-contained and inclusion classrooms. During my 5th year in the classroom, I was offered a position as an administrator, supervising the Special Services and World Language Departments throughout the Roxbury School district. Currently, I have just recently been appointed as the Assistant Director of Special Services for the district. It has been an absolute honor serving the community in multiple capacities and I look forward to continuing on this journey together.

Philosophy: Throughout my career, I have maintained a consistent core value during all of my experiences and decision-making; doing what is best for the child. From a very young age, I made the decision to become an educator. I always knew I loved working with children and one of the most rewarding aspects was watching them grow and develop at their own pace. As I reflect on my career and experiences to date, nothing makes me happier than to see the pure joy of learning and happiness on a child's face as they explore, learn, and grow. Every child has the ability to learn; it is up to us as educators to develop each child and meet their needs. As we shape and develop students throughout the years it is critical that we, as educators, take into account the WHOLE CHILD, and not solely focus on the area of academics.

Who I Am: Throughout the district, I am often referred to as Mr. Joel, Mr. DeBarros or Mr. D! My love and passion for education and advocating for students is second only to my devotion towards my family. I am a proud daddy and husband. The life lessons and experiences that I have encountered in my personal life have certainly helped me become a better educator. The most rewarding part of my role is that I get to learn with and from students, staff and families on a daily basis. We are all stronger together and in order for us to help support our students, we all play a critical role.